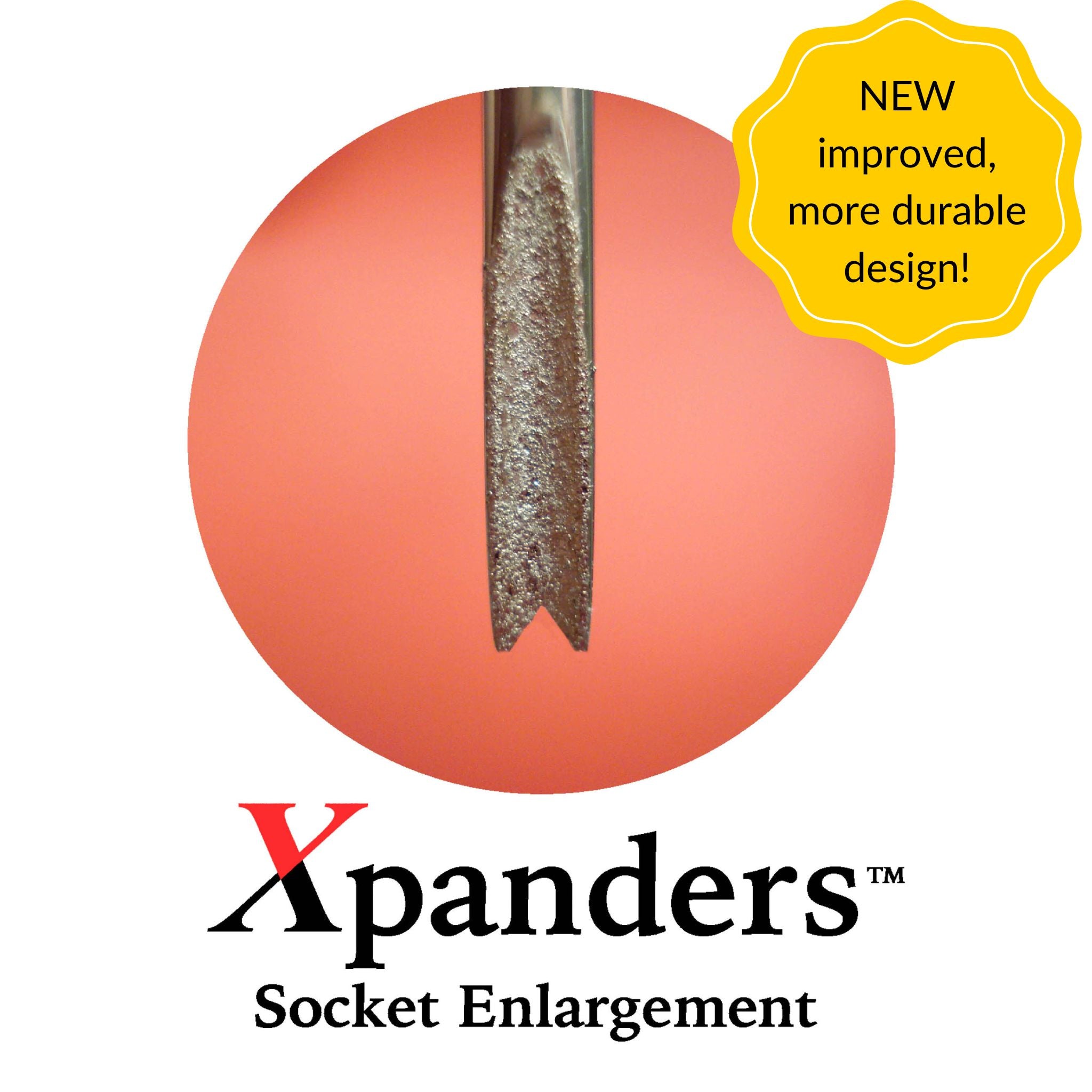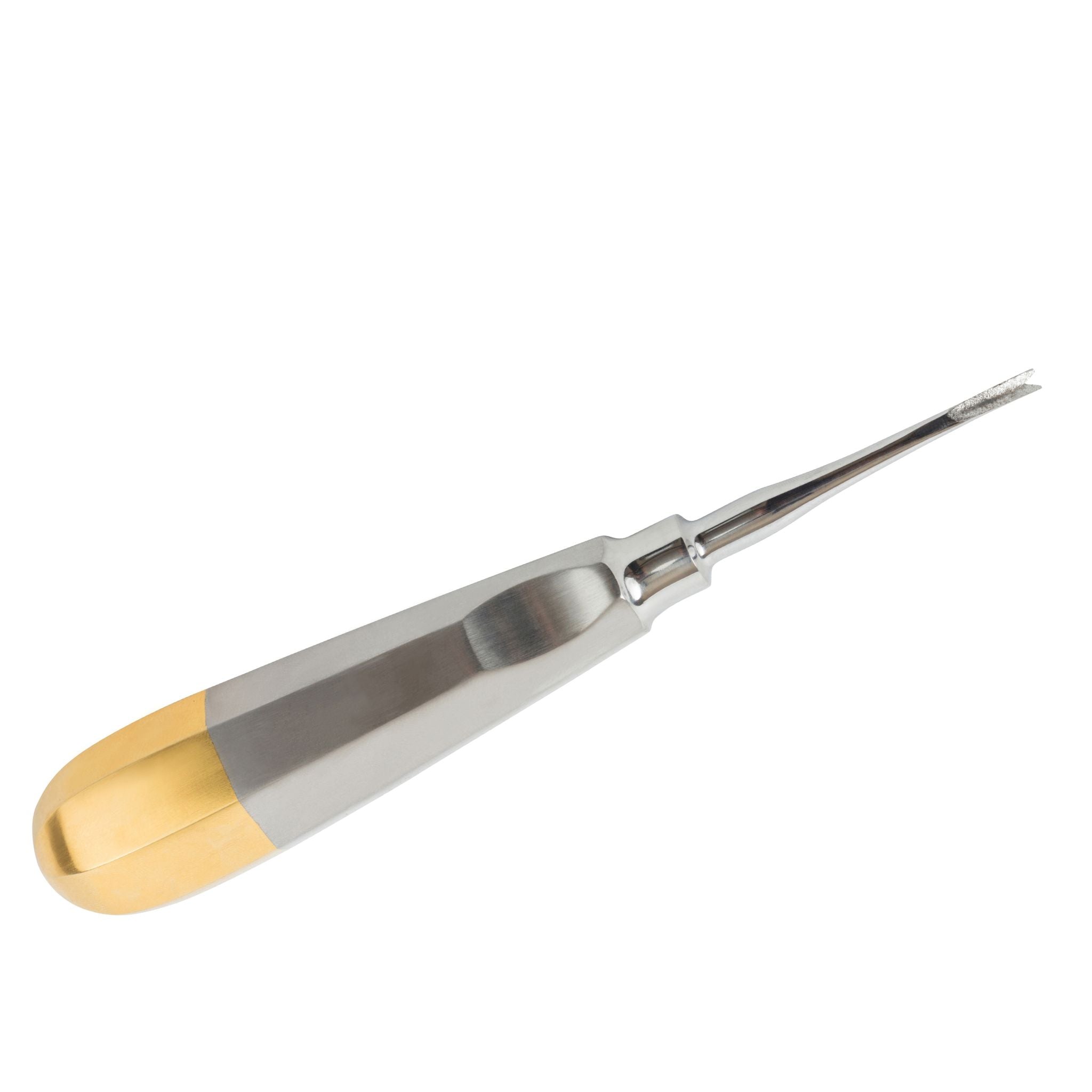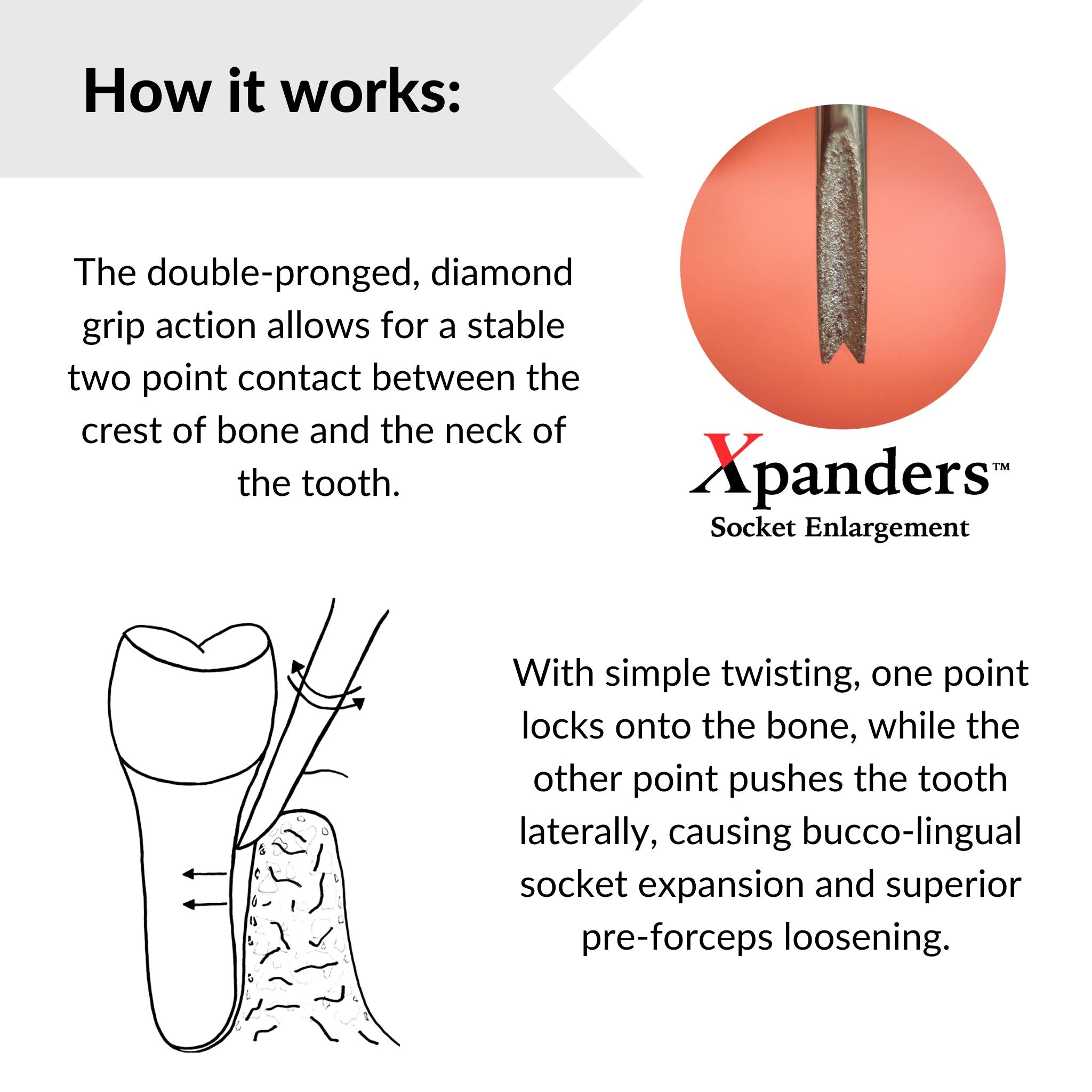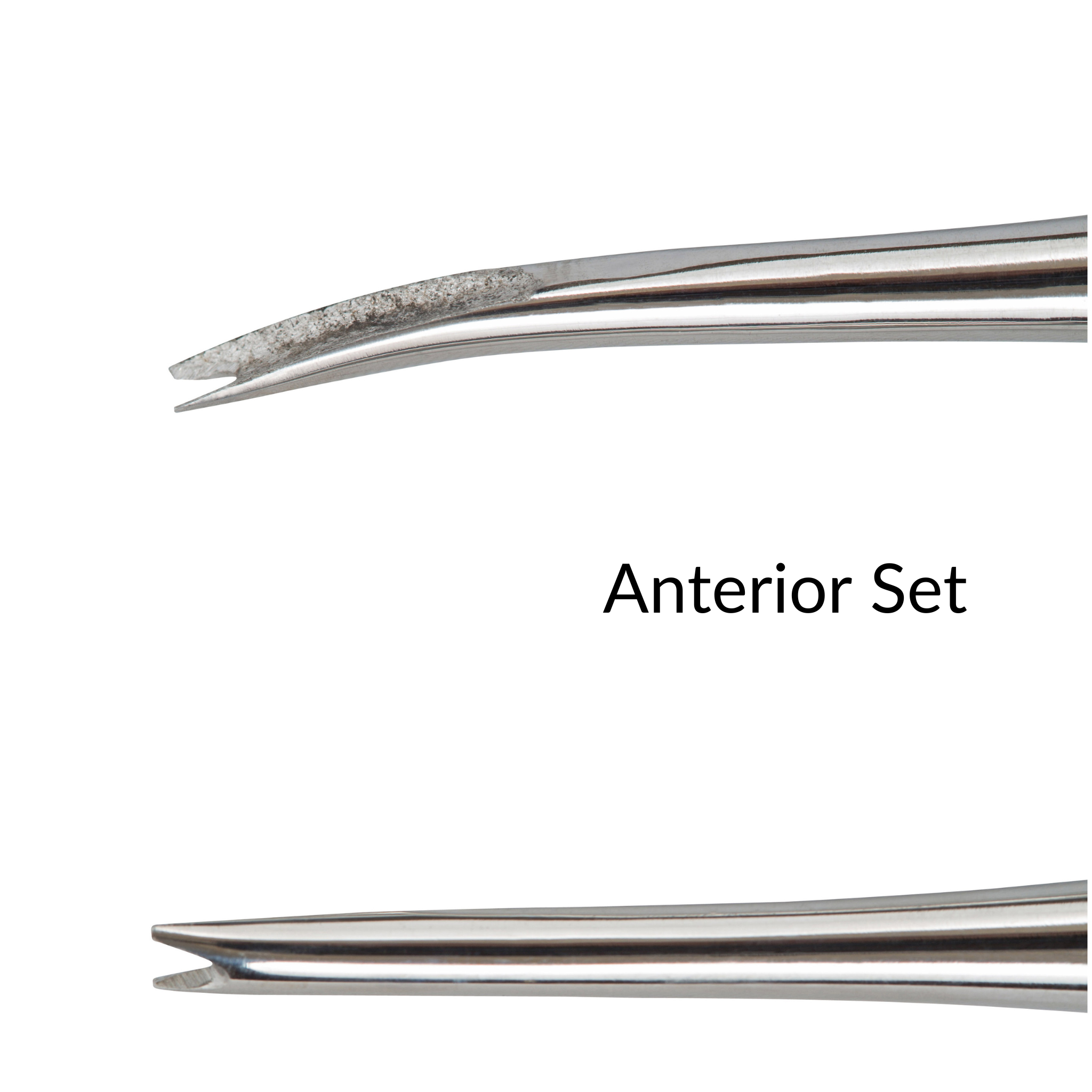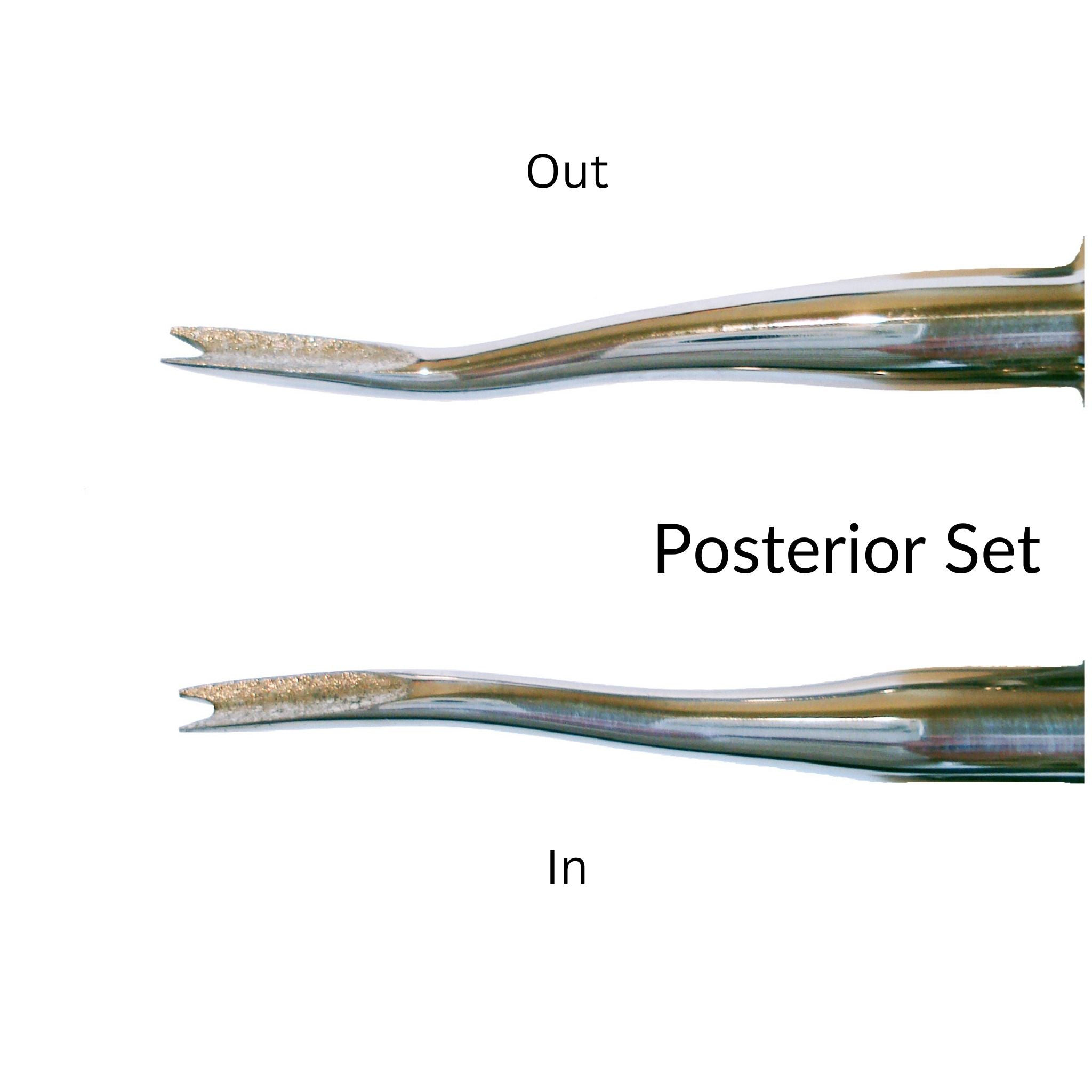 Style:
Set of all 4 (Best value!)
¡Usa el código hola15 para obtener un 15% de descuento ahora!
✔️ Inventado por un dentista
Xpanders™ are the most atraumatic elevators devised to date.
Just a small amount of penetration into the PDL space is all that is needed for maximum lateral tooth movement. The more movement you can get with a dental elevator prior to the use of forceps, the less likely root tips will break off. These intra-ligamental elevators are an absolute necessity in any modern dental office.
The double-pronged, diamond grip action allows for a stable two point contact between the crest of bone and the neck of the tooth.  With simple twisting, one point locks onto the bone, while the other point pushes the tooth laterally, causing bucco-lingual socket expansion and superior pre-forceps loosening. Get the full power of 360 degree socket expansion with Xpanders™. 
"¡Estos son nada menos que fantásticos! La primera vez que usé Xpanders en un canino roto, estaba asombrado y agradecido. Una valiosa adición a mi arsenal de cirugía oral".
I am confident that all dentists who do extractions will find the Xpander a valuable addition to their practices. Doctors who place implants into extraction sites will immediately see how much of the socket is preserved while the tooth is easily extracted to make immediate implant placement likely in all areas of the mouth.
Xpanders™ Preguntas frecuentes:
Enganche el surco y el ligamento periodontal en cualquiera de las 4 esquinas del diente. Mantenga la punta del instrumento en posición vertical en un ángulo de 30 grados con el eje longitudinal del diente. Empuje y gire el instrumento repetidamente hasta lograr el movimiento bucolingual.
No doble los Xpanders™ hacia atrás, como una pala. No se acerque al diente desde un ángulo lateral directo de 90 grados, como lo haría con un elevador recto convencional. Estos ángulos y movimientos doblarán las puntas.
En ArtCraft Dental, obtenemos solo los mejores materiales de todo el mundo. Todos nuestros instrumentos están fabricados con acero inoxidable quirúrgico francés o alemán 420 de la más alta calidad.
Comenzamos con una misión simple: fabricar instrumentos que realmente funcionaran para el trabajo en cuestión. Todos nuestros instrumentos están diseñados por un dentista, el Dr. David Fyffe. Hemos pasado más de 30 años desarrollando herramientas que funcionan. Estamos dedicados a resolver los problemas más molestos de la odontología con nuestros instrumentos únicos.
Envío y Devoluciones:
¡Sí! El envío es gratis en todos los pedidos a México con una compra mínima de $2220.
¡Sí! Pruébelo y, si no está completamente satisfecho con su compra, le ofrecemos un reembolso completo garantizado dentro de los 60 días. Para devoluciones, simplemente envíenos un correo electrónico a hello@artcraftdental.com.
¡Envíenos un correo electrónico en cualquier momento si tiene preguntas! Conocemos nuestros productos, ¡todos hechos por dentistas para dentistas! Puede enviar un correo electrónico a hello@artcraftdental.com o llamarnos al 1-877-340-1776.